Planning Technology-Enabled Collaboration Rooms
Collaboration is, essentially, a group of people coming together to get the most from their combined analytical and creative energies. Time and again collaboration proves to be one of the most significant ways to solve business challenges. 
Today, the meetings themselves can be a challenge given the increase in remote workers and changes necessary for others returning to offices.  The balance of live and remote engagement must be considered even more.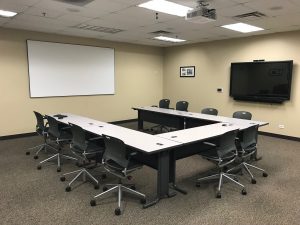 Often collaboration occurs in teams within individual departments during design reviews, production analysis, and planning, or presentation planning.
When collaboration involves two or more departments, the value realized can increase exponentially. Diverse teams can bring very diverse types of content that need to be effectively shared.
For example, sharing CAD design concepts between engineering and manufacturing teams can optimize a product for smooth production and after-sale service.
Reviewing end-to-end workflows in large spreadsheets or visual diagrams provides insight on the impact one group's work has on another's. Cross-functional collaboration such as this not only improves workflow and time and cost savings, it also boosts satisfaction of engaged participants.
Designing Collaborative Spaces for Users' Workflow
Enabling effective collaboration requires an investment in meeting spaces and technology appropriate to the tasks. Given the shift to remote workforces, more meetings require technology to facilitate discussion.  Most organizations are overwhelmed with digital communications, data, and images.
The use of printed handouts or huddling around one computer never was ideal for a collaborative environment, and they are definitely not effective tools now that so many people are working remotely or even separated in meeting spaces.
Connecting remote teammates is especially difficult without thoughtfully designed distance collaboration tools, including both hardware and software.
As many people do return to work, there needs to be an effective balance with in-office and remote meetings. Ultimately, the displays and collaboration tools in the room should suit the user content and objectives. The type or number of large-screen displays in a meeting room is only one of many technology decisions to be made.
Audio, connectivity, software, and other tools are key to enabling productive sessions and remote connections. A review of sample use cases, workflows, and user profiles could lead to the standardization of room designs based on recurring work, teams, and their data requirements.
Define Success Up Front
Start your planning with the end in mind to guide design.
How will you know the investment in collaboration technology was successful? Will you be measuring space utilization rates? Are you trying to increase the number of cross-functional meetings? Do you need to support a growing, globally dispersed workforce? Do you want more engaged users who are building a culture of collaboration? 
How to measure success is a topic unto itself, but knowing what success looks like will guide space design and technology choices.
Questions and Considerations in Design:
With so many component options and platforms available, ensuring seamless integration of all equipment is critical. Involve an AV design specialist as early in the process as possible.
This is especially important with new construction to ensure the interplay of space, sound, visuals, and structure is considered up front to avoid costly rework later.
An experienced designer should be asking questions such as:
Are you planning spaces for new construction or renovating an existing space?

If existing, does the layout or structure create any limitations for running network cables necessary or added electrical connections?

If new construction of multiple spaces, is there an opportunity to standardize room sizes and technology based upon the work being conducted in them?

Is user content mostly spreadsheets, documents, and PowerPoint slides, or is it more complex 2D/3D data and photo-realistic rendering?

If the content is complex, at what scale should it be viewed to enable effective review and reduce time-to-insight?

How many different user applications/software packages must be open at one time?

Will users want to share content from their devices? If so, will the sources be a mix of laptops and hand-held devices?

What codec (Cisco, Polycom etc) is in place or required for remote participants?

Will there need to be a primary presenter and podium in the space?

How is the seating arranged as this will affect microphone placements.

How many and what types of audio sources will be in the space?

Will multi-point remote collaboration be necessary and, if so, between how many locations?

What network bandwidth is available for sharing complex data remotely?

What interaction capabilities do remote participants expect?

What level of security is required?

What technical support plan is necessary to ensure systems are maintained and available to expectations?

When users experience a problem or have a question, what support structure is in place to minimize meeting delays?

How long does the technology need to last?

Does your company have a regular refresh cycle or do you need systems to last as long as possible?
Regardless of how long collaboration technology needs to last, understanding workflow and expected use cases is a critical first step.  Effectively designed spaces and appropriate, simplified tools will be highly utilized and generate measurable return. 
Establishing metrics to gauge success also needs to be done at the beginning, though measures and benchmarks can be updated as experience increases.  
Regular monitoring of use and performance data will provide timely insight into needed system modifications or user training. When the time comes to plan the next set of technology upgrades, justification for investment is much easier with data that proves the payoff.
Read the follow up post Measuring the ROI of Technology-Enabled Meeting Rooms
To learn more about Pentegra Systems, contact us today.