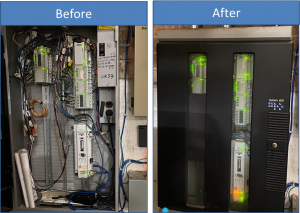 Background
A large secondary school district in the western suburbs of Chicago was undertaking HVAC system upgrades (Siemens) at five regional schools at one time. The project required network infrastructure upgrades and extensions to all HVAC controller system locations. The network needed to be robust and reliable, requiring engineers and working with the District IT and HVAC vendor.
Challenge
Further, the District needed the project done quickly. The network needed to be upgraded before the new HVAC systems could be installed and tested. The entire network infrastructure upgrades project had to be finished and signed off before students returned from summer break. The HVAC control closets were in challenging locations and required precise cable and hardware placement. Therefore, there was no time for rework. Proper advance planning and skilled installation were necessary.
Solution
Pentegra engineers performed a thorough site survey of each location. We also developed and presented a detailed installation plan and timeline thanks to a complete picture of each site and situation. The School District representatives signed off on an engineered solution that included mini switches, installed in a protective configuration. The protective configuration prevents accidental damage to network cables. As a result, uptime on the HVAC systems should increase.
Outcome
We completed the network upgrades on time and on budget. Upgrades to the HVAC systems proceeded on schedule with all systems complete in time for the students return.