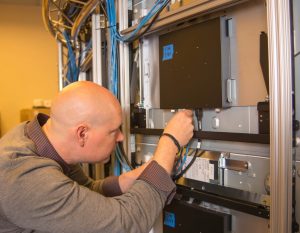 Whether you have complex audio visual systems with multiple screens and projectors, or a more simple set up, you've decided to invest in creating functional meeting spaces that meet your needs.
Supporting your investment over time is an important consideration. Proactive system maintenance can discover issues before they become serious problems.
This reduces IT burden, system downtime, and user frustration because users experience reliable and well-performing audiovisual (AV) systems.
1. Prevent an outage
A small issue that goes unchecked can become a big problem that may shut down your system. With regular maintenance, a professional team performs a full check of your system – even the elements that are not used regularly, to ensure everything is working together as it should.
This allows your team to focus on your business without concerns about your AV technology slowing them down.
2. Extend the life of your equipment
When a professional services team monitors all components of your system, issues can be identified and resolved immediately to ensure the maximum life expectancy of the system.
This is similar to the regular maintenance recommended for an automobile because it extends the life and performance of the vehicle. An AV system works much the same way and will benefit from regular proactive maintenance.
3. Create a technology road map
Every piece of technology has a scheduled end of life. Regular maintenance will identify the pieces that need to be replaced, before they fail at the wrong time. This allows you to plan and budget for new components well in advance.
4. Get more from your service agreement
Proactive maintenance is a great way to get the most out of your contract because it includes regular checks or often an on-site team member. Regular interaction creates a more engaged process and expands the team member's knowledge of your systems.
The regular checks ensure that the system is always working at peak performance rather than responding reactively to service tickets.
If the agreement includes an on-site team member, this makes support for end-users more accessible and convenient.
5. Maintain your inventory
Part of proactive maintenance includes monitoring an inventory of supplies and spare parts. Ordering can take place when supplies are low – avoiding shortages that may cause system downtime.
To learn more about comprehensive AV Solutions, contact us today.