The Power of Passive Optical Networks
Some technologies improve incrementally over their predecessors. Passive Optical Networks (PON) change the equation utterly.
Compared to traditional Ethernet networks that use electrical signals to transmit data over copper cabling in the last stretch to the edge devices, PON brings fiber connectivity all the way to the edge, making them faster, more reliable, and more durable.
They can handle a greater amount of data, with greater flexibility, and are far more energy efficient than copper-based networks. Moreover, the larger and more complex the integration, the clearer the power of Passive Optical Networks become.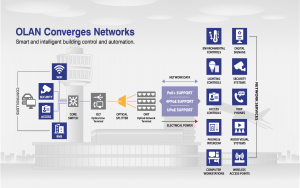 Consider the way Passive Optical Network solutions (PON, also called Optical Local Area Networks – OLAN) bring new capabilities, create new options, and provide more flexibility for building design.
Not long ago we designed and installed a comprehensive optical-based network infrastructure for one of the world's largest airports.
The benefits were dramatic, but they were no different than any large, decentralized campus-like environment would realize.
Whether a transportation hub or university campus, health care facility, or large corporate setting, there's a reason – in fact, there are lots of reasons – that passive optical networks are actively sought after these days.
Uptime. All the time.
On average, downtime for PON is less than five minutes annually. You may spend more time reading this article. For 24/7/365 environments like airports or hospitals, 99.999% uptime is a game-changing advantage.
Real-time and critical services need high availability, stability, and security from their networks. A PON system provides reliable connections for cloud networking, big data, Internet of Things, virtual desktops, remote workers, distributed offices, and international organizations.
Just as impressive: With a life expectancy exceeding 20 years, passive optical networks are far more durable than their traditional counterparts, which need to be upgraded every 5 to 7 years. Organizations reduce waste and save money, both in CAPEX and OPEX (capital and operating expenditures). Long-term cost of ownership plummets.
Just how much savings are we talking about? Enterprises typically reduce capital costs by 30-50%. Operational costs drop by 50-70%. And energy costs decline by 30-65%.
A sustainable solution
Operational efficiencies and fewer technology upgrades reduce a building's environmental footprint. Changeover of traditional network technology creates 890 lbs. of waste on average each time.
Optical technology lasts up to four times longer, uses one-fifth of the power and requires no cooling. That's not just better for the bottom line – it's better for our planet. If your organization has set ambitious green goals and wants to achieve LEED facility certification, PON will go a long way toward helping you reach your goal.
Miles ahead
Electrical signals traveling over copper wires degrade rapidly without a boost. Optical signals can travel up to 12 miles – across your campus, past your satellite facility, even beyond Gate 107 on the J Concourse – without data loss.
And even at the maximum distance, PON still offers 4x greater Gigaport density than traditional electrical networks. Moreover, the Tellabs PON system needs a fraction of the equipment space its predecessor networks demanded.
Ready for anything
PON's performance remains steady in all manner of environments. No matter how demanding, tough, or harsh the conditions. Whether underneath a baggage handling system or outside on a tarmac, PON excels in challenging settings.
Think about an airport. Travelers see a clean and brightly lit terminal, but behind the scenes dirt, pollutants, and vibration create challenging conditions for a communication infrastructure. PON is tailor made for those kinds of applications.
Want to learn more about PON?
We'd love to talk to you about the power of fiber optic, local area networks. Contact us here. We also recommend that you download our white paper, "How Enterprises Are Solving Evolving Network Challenges with Passive Optical Lan." It goes into detail about the value PONs bring to enterprises – without forcing them to alter the way they do business. Further, our new video goes into more depth of the benefits of using PON in the most challenging environments.
To learn more about PON and how it can help your business, contact us today.