You've heard of AV over IP (audio visual over internet protocols). It's the buzz at trade shows and online. It seems to be what everyone is talking about.
But what is it? Why do you need it? And what's more, are you ready for it? This is the first blog in a series that will answer these questions and more.
What is AV over IP?
AV over IP is the latest technology in the overall trend that is the convergence of AV and IT. AV systems are no longer isolated systems that run on their own network.
Further, they have proprietary cables, connectors, or protocols. Older devices were limited to one source signal per input/output. AV over IP removes these signal input and output restrictions.
New devices using this technology have digital encoders and decoders that translate audio/video signals into multicast network traffic. Additionally, this allows for some pretty amazing functionality that isn't possible with traditional AV equipment.
Significant Expansion Capabilities
We are no longer restricted to a 16×16 video switch! We can now have hundreds of sources and output devices like projectors and speakers. Flexibility in design/configuration.
If you have multipurpose rooms, as long as you have a network in the room you can expand the number of A/V inputs in that space to fit your use case without having to have dedicated input boxes in predetermined locations.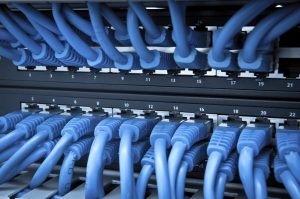 Why AV Over IP?
As mentioned, AV over IP is part of the convergence of AV and IT.
This puts more demands on the network. The network is already getting loaded down by the addition of VoIP, increased bandwidth for Teams calls, and ever-increasing usage from normal business activities.
It's understandable why this is happening. Common infrastructure for independent systems in a building centralizes access and management of the components.
This also leads to common troubleshooting and management tactics for these attached components.  Therefore, as AV becomes more connected, monitoring doesn't necessarily require a dedicated AV manager. Connected technology becomes part of the IT manager's responsibilities.
The convergence of AV and IT makes a lot of sense and shows no signs of stopping.
Who Offers AV over IP?
There is an increasing number of component manufacturers who are expanding their product offerings to include AV over IP solutions.
On top of that, they have brought in-network experts to help design these devices. Their approach was not to create new, proprietary AV signals that just go on clients' networks, but to create a solution that encapsulates the AV signals to leverage the clients' existing network.
Elimination of dedicated cabling gives clients an extremely attractive price to value ratio when using IT-connected technology in their workspaces.
How Do I Need to Get Started?
All of this functionality and benefits also have some considerations. The biggest, most obvious one is the network. Out of date or under-specified networks must be evaluated in order to confirm they support this.
The good news is that the network requirements are easily understandable by a network specialist. To support the multicast traffic, you must consider the correct class of network switch and how they are configured. Furthermore, just like a home network, there needs to be enough uplink bandwidth or performance will take a hit.
Part 2 of this blog is available now. 
To create a comprehensive AV Solution for your business, contact us today.