Proprietary vs. Non-Proprietary Access Control Solutions
Today's access control offerings include a wide variety of solutions that can be categorized into two groups:
1. Proprietary access control systems
2. Open or non-proprietary access control systems
Proprietary access control can be a risky business decision; let's explore why by expanding on the two groups.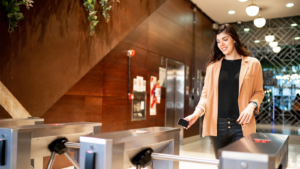 What is a proprietary access control system?
A proprietary solution uses devices that are only compatible with the software provided as part of the total system. Some may say that proprietary solutions are more convenient since the buyer is only dealing with one provider, rather than with multiple vendors. However, many organizations are moving towards modern, open architecture solutions to be able to benefit from scalability and adaptability to cybersecurity threats.
Old devices may not work with new, secure software from a different provider. Legacy, proprietary access control systems are at risk from rapidly emerging cyber and physical threats, which places an entire organization at risk.
What is a non-proprietary access control system?
A non-proprietary access control system has an open architecture platform. This allows the possibility to run software and hardware from different providers, giving you more flexibility. Drawing from a larger pool of technology can enable system design to meet specific organizational needs. Open systems can allow reuse of some existing hardware and wiring, as well as the possibility to expand or downsize your physical security architecture as your needs evolve.
Non-proprietary can apply to other aspects of an access control system.
The first and most important is that the system can be procured and serviced from different sources (e.g., integrators). There are still several products on the market that are proprietary 'house brands', meaning they're only available from one integrator for procurement and servicing. Non-proprietary supply means an end user doesn't have to be locked into one supplier. Look for enterprise-class access control solutions.
The second application of non-proprietary solutions applies to the selection of software and hardware such as controllers, locks, sensors, etc. The classic model for a manufacturer was to have their hardware and devices work exclusively with their software, and vice versa. However, this has already been shifting as software manufacturers open up to working with several access control manufacturers.
An open security solution provider can provide insight on multiple open architecture solutions, giving end users the freedom to choose hardware and software that best suits their needs. This unlocks the flexibility to potentially switch to different software or access control hardware vendors, without having to rip and replace their entire infrastructure.
Lastly, an open system will have the ability to integrate with other third-party devices, such as intrusion, asset tracking, human resources software, and more.
Choosing between proprietary and non-proprietary
Our world is becoming increasingly interconnected, and so are access control systems. Users are looking for flexible, adaptable, and user-friendly physical security solutions that can evolve with their needs. Whether your organization is growing or adding new applications to your infrastructure, migrating to an open access control solution allows you to adapt to future changes and unexpected industry trends.
Concepts graciously provided by Genetec; Physical security systems manufacturer.
Want to learn more about Pentegra Systems Access Control Solutions?
Please fill out the form below and our team will get back to you.